Entering the Quantum w/ Joe Dispenza
"In this work we don't pray to have our prayers answered, we get up as if they're already answered"
I'm waking up from the dream of my second Joe Dispenza advanced meditation week-long retreat. Reflecting on my experience and hoping to share with you. There was so much that happened during this time that is intangible, as energy is. I hope to summarize the week-long experience in terms of what I have learned and experienced.
To begin, the Joe Dispenza week-long retreat is an investment. Monetarily and in your transformation. I had been to one two years ago and it had profound effects, I found myself wanting to return since. The entire event with all-inclusive hotel and meals is about $3500 US. And it's worth every penny. I manifested the means to go a week before the event, in the most unexpected way from the universe just as I had the first time around. If you really want something, you can always make it happen. Or rather, be open to receiving it.
The week-long was in between Tulum and Playa Del Carmen, about 25 minutes from my home. I met people that had traveled from Korea, Turkey, Nigera, Germany, Alaska and the like to be there. I felt grateful for the ease of access. The morning of I packed a suitcase and took a cab north. To a new life. I didn't buy a ticket before the event as they sell out in 5 minutes typically. But I had heard from my circle that there's always tickets available at the door the morning of the event. I decided to book my stay and trust that a way would open up if it had meant to.
I arrived at 1pm on a Sunday. Stood in line for about 25 minutes and successfully bought my ticket to the quantum field. Immediately the energy feels lighter, joyful, limitless. I check into my beautiful oceanfront suite and set some intentions for the week ahead, knowing it passes by in a flash. The event is held at the miraculous Barcelo resort, a massive plantation of the oceanfront hotel, conference space, massive pools and all the food and drink you could ever dream of. Sometimes an issue when you're sitting in meditation for 8 hours a day 😉 But there's balance to be found in everything, right?
I try to think of how to write this and I just, don't know how to put it into words elegantly. It's all energy. It's a deep resonance with truth and understanding of how we are the creators of our lives. When you know, your life changes. Because suddenly responsibility ensues as a result of you being in the driver's seat of your experience.
The workshop is about half lecture on the science and inner workings of the body and mind. It's advanced, but digestible as Joe Dispenza delivers it in a humorous and lighthearted yet motivational way. And might I add, with elegance and grace. Joe is a walking embodiment of a lifetime of discovery and integration. He is attractive to all ages and walks of life as his presentation is intentionally non-dogmatic and divisive in approach.
Joe Dispenza is not only a doctor of chiropractic, he is a post-graduate of neuroscience and neuroplasticity, quantitative electroencephalogram measurements, and brain-heart coherence. His aim is to demystify the mystical for all walks of life to apply to their lives. I have not met one person after his workshop that is not inspired, renewed, and in awe with excitement for life.
My favorite reads:
Day 1
Learning "the breath", lecture, and mental understanding. We learn the breath that helps us access the quantum field where all potentials lie at the same time. It takes a bit of practice to hit the pineal gland and become nothing, no one, no time.
Day 2 – 7
Bright and early we begin with lecture and/or meditation. We do a variety of walking, sitting, and laying down meditations. All with a different "theme" or objective. Some are to heal and some are to create our highest versions of ourselves. Some are to activate our electric body. All are to restore cells to resonance and harmonic order in the body.
Everyone becomes your friend as you go deep, fast. Experiencing transformation in a large group is a truly unforgettable experience as collectively the vibrations rise and you begin to fuel eachother's energy. A sacred space is created in what is normally a typical conference room. All ages, cultures, and walks of life attend these unifying events.
The essence is to learn how to gain control of our character selves, ie. "matter" in the 3D reality, in the "VR headset" as he calls it. Everything starts as potential energy, as we were created from source energy and have fallen into 3D matter into bodies. But as you may know, we are not just our bodies. There is a realm of infinite consciousness inside our minds and once we know how to get beyond or bodies and become no one-no-thing in no-time, we can play with frequency and begin creating.
The key is getting beyond the thoughts, the emotions, the programs that we unconsciously play everyday on autopilot. First we get into spaaaaaceeeee, as Joe guides us through feeling nothing. It sounds simple but its actually really difficult to become nothing and sense nothing. Usually about 30 minutes until we can become pure vibration and get quiet enough to access these higher frequencies.
This can all be understood by understanding the brainwave states in our brain. There's Gamma, Beta, Alpha, Theta, and Delta.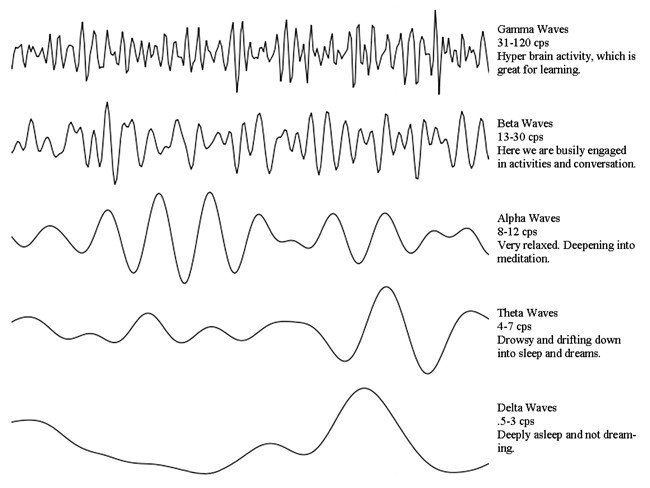 On a day to day basis, we are typically in Beta. When we are thinking and processing information, this is the typical state of our brain. When we are in meditation or relaxation, our brain slows into Alpha. Theta is the golden state, where we can access these higher realms of consciousness. It's tired and happy, Joe says. It's deep meditation, or rather those moments before you fall alseep and begin dreaming. Delta is sleep.
So, we intentionally slow our thoughts to Theta and enter the Quantum. Every thought is potential energy that when combined with an elevated emotion creates the future. We get up everyday essentially living in the past as we are unconsciously firing and wiring the same networks in our brain, feeling the same emotions daily as part of our life experience. Unless we are conscious and work on changing our typical state, we will generally live the same lives day after day.
So what we do is tap into our true selves, love. Pure unconditional love, spirit, whatever you may call it. We feel source energy and use it as fuel to draw our future selves to us in the present time. We become the creators of our lives and restore our gratitude for being creations on this planet.
The idea is to become the version of yourself before having it in the 3D world. Because everything begins in energy. When we want something, we are polarized from having it. That's duality. We must become it. Through clear intention and elevated emotion.
I witnessed miracles on a daily basis. I watched those in wheelchairs walk for the first time, overcoming their diagnoses and bodies. Healing illnesses that they were told will never overcome. This is because they were able to overcome their current state by becoming a new person entirely. That is the power of the mind.
After the workshop I feel inspired, limitness, abundant, and love for life. I have already begin to see the synchronicities line up and know I am on the verge of a new life that I have created from the quantum.
My intentions were to tap into the feeling of purpose, abundance, and ultimately pure freedom. I did that on the beach in my walking meditations. Falling in love with the feelings of BEING those words. Drawing the experience to me in real-time. The body doesn't know the difference between the past and the future, as we know how thought can have an immediate effect on the body.
Another research project Joe Dispenza is researching is watching the cells exposed to meditation become completely immune to virus and diseases. It's because the frequency of the cell is so high and coherent, the disorder of illness cannot co-exist. This is the science behind spontaneous healings, and also the reason 0% of people had a positive covid test after the event.
I remember someone asked a staff member about Joe's health with all the events he does. She glanced and replied coyly "Joe doesn't get sick."
Joe encourages us to learn and then apply. To stop asking people for their opinions on social media and to stop complaining. He always teases the audience "How do I know?" "Because i studied it!" "Because I researched it!" "Because I witnessed it!"
After the week-long, I've made new friends and memories I will never forget. I strongly encourage everyone to attend a workshop or at the minimum, read one of his books. "Becoming Supernatural" is essentially everything he teaches in the Advanced week-long workshop and an amazing read should you want to understand and directly apply these practices online.